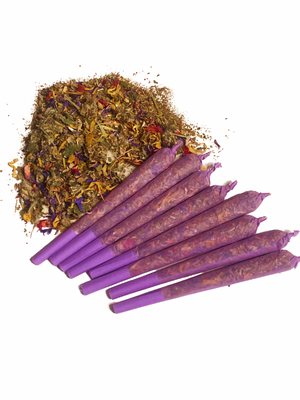 Sip Or Smoke

Crafted to gently support relaxation and states of deep rest as a tea, or herbal smoke blend. This beautiful blend invokes peace and calm into the spirit.
Use Kickback.' to relax the mind and calm the spirit or as a non-addictive alternative to pharmaceutical sleep aides.
Other uses..
⋆ Smoking cessation aid
⋆ Nerve relief
⋆ Anti anxiety aid
Directions:
Sip as a therapeutic tea or Smoke in a Ceremonial Pipe or Spliff
Ingredients: 
Contains Mugwort, Skullcap, Damiana, Rose Petals, Calendula Flowers, Gotu Kola, and Cornflowers. NO THC, CBD.
Things To Know
• All of our ingredients are Organic as well as Kosher or Wildcrafted.
Rolled in Raw unrefined paper, slow burn
• Absolutely NO chemicals or pharmaceuticals are added to these blends.
• Not for pregnant or lactating women.
• If you have a medical condition or take any medications, please consult your physician before using.
• Intended for intentional use by responsible adults ONLY.
• Empower yourself by doing your own personal research about plants and the different ways to consume them.
IMPORTANT DISCLAIMER: None of the health topics and products sold and presented at Sweet Kitty Club have been evaluated or approved by the FDA. They should not replace personal judgment or medical treatment when indicated, nor are they intended to diagnose, treat, cure, or prevent any disease. Always talk to your physician about the use of my products.
We can not be responsible for any allergies or adverse reactions to this product.