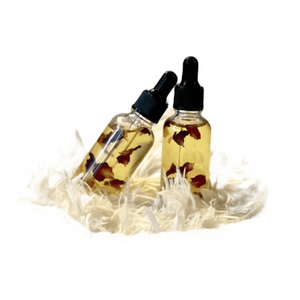 Essential oils create calming natural scent notes of floral and tea. Moisturizing oils and powerful herbs join forces to create the ultimate experience. This oil is rich in vitamin E making it extremely moisturizing.  
Every oil comes with an herbal pack to add an extra visual component to your final product. Only a pinch is needed to make your products stand out.
Comes in a Half Gallon Container 
Benefits :
- PH balancing properties
- Anti fungal and Antibacterial properties that have been known to keep yeast infections and UTIs at bay.
- Increased desire
- Calming and bright aromatherapy
For ingredients and benefits please see the product pages for: