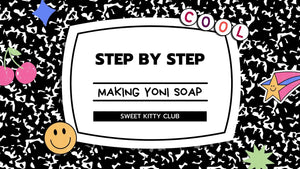 How To Make Yoni Soap Class
Want to step into the profitable world of yoni care? I've got you covered!
This is a course for beginners. We will start with the basics to help you get started. If you are advanced then this course may not be for you. Whether you choose to sell retail or wholesale, this course will set you up from success.
For the soap making classes you will receive a soap kit. It will include your soap base, oils, soap mold, and colors. 
You will get 2 hours with me virtually, ask all the questions you need and learn:
Classes are available:
Monday thru Wednesday 10am-12pm
Saturday 10am-12pm 
After purchasing your class, you will receive an email so we can discuss what day you'd like to train. 

Sezzle & Zip available, if eligible. Split your payments into 4. Learn now, pay later! Let's get you to 6+ figures!
NO CREDIT TOWARDS PRODUCTS OR WHOLESALE ITEMS In EXCHANGE FOR class deposit training