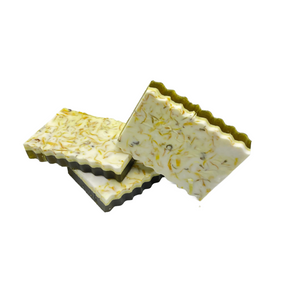 A clean scented body bar that aides in maintaining a healthy pH.

Smells like:
A wonderful, relaxing, spa-like scent!

Ingredients:
Goats Milk, Moringa Powder, ACV, and Mica. This fragrance is infused with natural essential oils, including eucalyptus, cedar, lime, rosemary, clary sage, lemongrass, black pepper, and blue chamomile flower.
Key Ingredients 
Moringa Leaf - As an antioxidant, Moringa preserves and boosts collagen, reducing premature signs of aging and repairing skin cells. In addition, Moringa also helps neutralize free radicals, which is also a cause of reduced collagen. Well-maintained hydration also keeps the skin looking plump and youthful. Rich in vitamins C & K.
Rosemary Essential Oil - has significant antimicrobial, anti-inflammatory, anti-oxidant, anti-apoptotic, anti-tumorigenic, antinociceptive, and neuroprotective properties. Furthermore, it shows important clinical effects on mood, learning, memory, pain, anxiety, and sleep.
Goats Milk - a gentle cleanser with soothing and hydrating properties, and can help to treat acne, reduce inflammation, and delay signs of skin aging!
Benefits
Prevents Bacteria & infections
Prevents Yeast 
Prevents Bad Odors 
Full Body Soap 
Fresher Longer
This soap is safe for your kitty as it has Anti-bacterial properties that help prevent bacteria and infections including BV, yeast infections and bad odors. Our Yoni Bar will provide freshness and help maintain a healthy pH balance.
4oz bar

Directions for Use:
Apply our scrub onto your wet skin and massage until satisfied. Rinse off with warm or lukewarm water. DO NOT PUT SOAP INSIDE YOUR VAGNAL, MEANT FOR THE VULVA, CLITORIS, ANUS, AND PUBS ONLY. 

Proudly Handmade In The United States