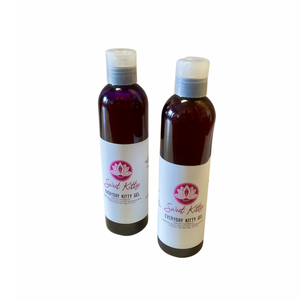 Our Everyday Gel is gentle and made out of plant based surfactants. It has a big, bubbly, silky lather! For best results use with a loofah in your shower. Please remember this is all natural and is not going to smell like perfume or fake scents. It is subtle and amazing, fresh, gentle, and not synthetic.

Balance pH naturally 
Kills bacteria
Heals the skin
Keeps You Fresh

Can also be used to Clean Yoni Eggs and other Gemstones.
Ingredients: Distilled water, glycerin, Sodium Coco Sulfate, Cocamidopropyl Betaine, Essential Oils, ACV, Tea Tree Oil, Color and Preservative.