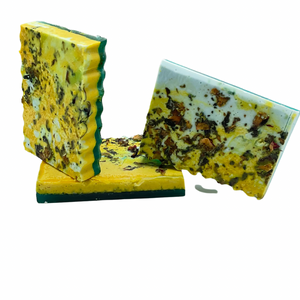 Beautiful Morning Yoni Bar
A clean scented full body bar that aides in maintaining a healthy pH.

Smells like:
An awakening clean scent for a crisp fall day

Ingredients:
Goats Milk, Shea Butter, ACV, and Mica. This fragrance oil is infused with natural essential oils, including patchouli, eucalyptus, pine, and citronella.
note: the dried rose petals in this soap may cause slight discoloration. this is completely normal and harmless!

Benefits
Prevents Bacteria & infections
Prevents Yeast 
Prevents Bad Odors 
Full Body Soap 
Fresher Longer
This soap is safe for your kitty as it has Anti-bacterial properties that help prevent bacteria and infections including BV, yeast infections and bad odors. Our Yoni Bar will provide freshness and help maintain a healthy pH balance.
4.5oz bar

Directions for Use:
Apply our scrub onto your wet skin and massage until satisfied. Rinse off with warm or lukewarm water. DO NOT PUT SOAP INSIDE YOUR VAGNAL, MEANT FOR THE VULVA, CLITORIS, ANUS, AND PUBS ONLY. 

Proudly Handmade In The United States