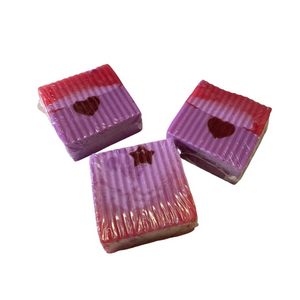 Smells like:

Lavender 

Notes of:
Cooling Essential oils and herbs paired with a light scent of Lavender. Get ready to relax, relate, release your stress away and get in the mood with this aphrodisiac.

Ingredients:
Free of Harsh Chemicals, Detergents, & Preservatives.
Coconut Oil, Olive Oil with Distilled Water, Sodium Hydroxide, Essential Oils and/or Phthalate & Paraben Free Fragrances, ACV, Tea Tree Oil, Mica and menthol crystals.
5 oz +
Benefits
Balances pH 
May Increases Vaginal Wetness
May Increase Libido 
Full Body Soap  
May Feel A Tingling Sensation When Applied On The Vulva
This soap is safe for your kitty as it has Anti-bacterial properties that help prevent bacteria, infections and bad odors. Our Yoni Bar will provide freshness and help maintain a healthy pH balance.

Proudly Handcrafted In The United States
 **There's different designs for this soap, when you purchase, the designs are chosen  randomly.**
**Disclaimer**
The content of this website is for educational purposes only and not intended to diagnose, treat, cure, or prevent any disease or health conditions. The information provided herein should not be considered as a substitute of a medical doctor or other healthcare professional. We recommend you consult with a qualified healthcare practitioner before using herbal, particularly if you are pregnant, nursing, or on any medications.