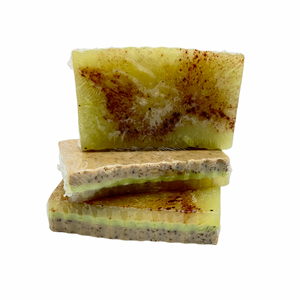 A warm scented exfoliating bar that helps to reduce aging, cellulite and stretch marks.

Smells like:
A Fresh Cup Of Java with a hint of vanilla and peppermint 
Ingredients:
Goats Milk, Shea Butter, Organic Ground Coffee, Cocoa Powder, Vanilla Essential Oil, Peppermint Essential

Key Ingredients 
Organic Coffee Grounds - awakens, and gently exfoliates the skin. Coffee grounds can reduce inflammation, protect the skin from sun damage, and reduce premature signs of aging.
Vanilla Essential Oil - has antibacterial properties
Goats Milk - a gentle cleanser with soothing and hydrating properties, and can help to treat acne, reduce inflammation, and delay signs of skin aging!
Benefits
Removes Dead Skin 
Reduces Stretch Marks & Cellulite 
Reduces the appearance of scars
Conditions Skin 
Can be used all over 
4oz bar
Directions for Use:
Apply our scrub onto your wet skin and massage until satisfied. Rinse off with warm or lukewarm water. Not suggestion for vaginal use. 

Proudly Handmade In The United States