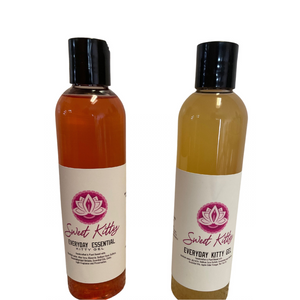 Our Everyday Gel is gentle and made out of plant based surfactants. It has a big, bubbly, silky lather! For best results use with a loofah in your shower. Please remember this is all natural and is not going to smell like perfume or fake scents. It is subtle and amazing, fresh, gentle, and not synthetic.
Deal includes: (1) 8oz Everyday Gel OG & (1) 8oz Essential Kitty Gel 
The difference between the two: The OG version is made with apple cider vinegar and tea tree whereas the essential is made with aloe Vera gel and has a light scent.
**no subs**