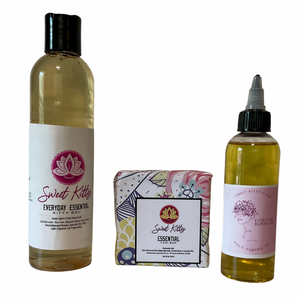 Everyday Kitty Essential Bundle
Are you new to The Sweet Kitty Club and want to know where to start with natural products for self care? 
Everyday Essentials is the bundle for you! And you'll save too. 
Includes:
(1)  *Everyday Essential Kitty Gel 8oz Our Everyday Essential Gel is gentle and made out of plant based surfactants. It has a big, bubbly, silky lather! 
(1) *Essential Kitty Yoni Bar This soap is safe for your kitty as it has Anti-bacterial properties that help prevent bacteria and infections including BV, yeast infections and bad odors.
(1) *Essential Bawdy Oil  This is a multi-purpose oil is that smells amazing and can literally be applied all over your body! 
(1) Soothe Vsteam Pack can be added as an option. Our Sweet Kitty Yoni Tea is our herbal vaginal steam made with a special blend of  unique herbs to help aid in toning and balancing your pH level while leaving your kitty feeling fresh!
** no subs**